Alphabet Blocks

Teach your children the Alphabet while having fun
Perfect For All Ages

From ages 3 to 103, these wooden blocks are timeless and will last for generations to come
The Smoothest Blocks

Wee Saw® makes the highest quality Standard Size Blocks
Standard Unit Blocks

Hand picked and hand routed to perfection
Made in the USA

Hard maple blocks handcrafted in Kingston, New York
Alphabet Blocks
Teach your children the Alphabet while having fun
Perfect For All Ages
From ages 3 to 103, these wooden blocks are timeless and will last for generations to come
The Smoothest Blocks
Wee Saw® makes the highest quality Standard Size Blocks
Standard Unit Blocks
Hand picked and hand routed to perfection
Made in the USA
Hard maple blocks handcrafted in Kingston, New York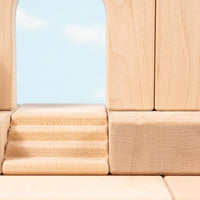 Hand Routed and Sanded
Every block is hand routed and sanded to perfection to make sure you receive the highest quality available.  Our blocks are made to last for generations.
Learn About Our Blocks
What makes our blocks special
At Wee Saw®, we fabricate the highest quality Maple wooden blocks.  Our Maple comes from the Northern States and all manufacturing is done in the USA.  We hand pick each piece of Maple to be made into blocks. We then mould and sand every board.  Before each block gets cut, we look at every inch of the wood to make sure there are no defects. After they get cut, we hand rout and sand each block to perfection.  We also offer different blocks, such as a Pediments with Dentil and other Architectural shapes.