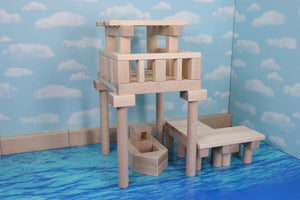 Did you ever take the Minihaha Ferry on Lake George?  It is worth it just to see the wonderful Boat Houses that are along the shore.  They are so beautiful that I would like to own one.  Having one made of wooden blocks makes me feel like I do.
This Wee Saw Toy Block Set contains 74 maple wood blocks.  It's perfect for your Wee Saw Boats.  With all of the pieces in this set, you and your child can build many things.
Boat not included with this set.